It's been a while since I've posted. I was about challenged out, so was off doing my own thing for a while. But, I'm back gleaning inspiration from various challenges, like this one: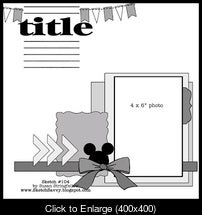 This is actually last week's challenge at Scrappin' Peeps -- but I didn't get it down and photographed in time. This is my version:
The background paper is DCWV. And I didn't have to do much to it -- I added the tan shells paper (also DCWV), the turquoise swirly and vintage beach babe (G45), my photo and mats, and the journaling spot -- the borders and shells were already there. This is from Seaport Village in San Diego -- where Scott got the captain's hat he's wearing. Since then, whenever he wears it, SOMEone (and usually several) feel compelled to make comments about the hat.
For the companion page, I used this sketch:
This is September's sketch challenge from Scrappin' Peeps (the message board a bunch of old CKers started when CK closed theirs).
Here's my take on it:
I used the tan shell paper for background this time, added the G45 papers and some banners and colored shells I fussy cut from another sheet of the first page's background paper. Journaling talks about how the boys and I have reach (sort of) a compromise. They cooperate in my photos if I take theirs as well (including Scott with his finger up his nose and Ben in weird poses).
Here's the two together: